About Us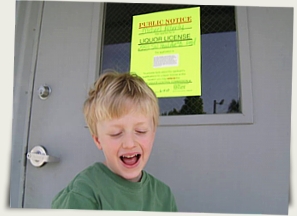 Storyteller Wine Company is a small band of wine pirates holed up in South Portland's John's Landing neighborhood. Leading this motley crew is me, Michael Alberty, ex-political scientist wannabe and a 20-year veteran of coffee and wine retail trench warfare in places like Seattle, Washington and Champaign-Urbana, Illinois. After nearly twenty-some years of wandering in the wilderness, I have been lucky enough to move my family back to where we came from, beautiful Oregon.
Over the past few years I learned that I really love going out and finding great wines that have an interesting story to tell. I found that a great wine almost invariably had an entertaining story behind it. I also found a lot of boring, "corporate" wines that may have had a cute animal label and slick marketing but the story behind it was as soulless as the juice in the bottle. But being in a traditional wine retail setting I found myself constantly having to grapple with those wines while attempting to be all things to all customers. Those days are over. Now I look forward to being an advocate for good wines that tell an interesting story about where they come from. These will be wines where the passion of the winemaker and the fruits of their skills are evident in every glass. I truly believe that behind every great bottle of wine there's an even better story.
Hopefully I can do justice to those stories in our electronic newsletters. I will do my best to convey what the wines taste like in a way that will let you know if they are your style or not. Hopefully the stories we tell will also give you a sense of the wine's place and make you feel as if you were sipping the wine side-by-side with the winemaker or the vineyard workers. But if you are looking for highly technical notes presented in a concise and efficient manner, I am going to disappoint you. My writing inspiration over the years has come from the likes of Simon Loftus, Kermit Lynch, Jancis Robinson and Jay McInerney if that provides any clues. To steal a couple of lines from Mr. McInerney, "(t)hese are the notes of a passionate amateur, a wordsmith with a wine jones. They are, to borrow a phrase from the late Frederick Exley, A Fan's Notes. If you want to learn about malolactic fermentation, I fear your money will be better spent elsewhere."
My journey to this point in life has been an unusual one to say the least. From national college debate champion to running a morning deli shift with Dave Johnston, now the banjo player with Yonder Mountain String band. From pulling shots of espresso while trying to keep grunge artists who now make millions of dollars from stealing the European music magazines off the newsstand to writing articles and editing a book about international environmental issues. This next part of the journey promises to be even more entertaining. I hope you will sign up for the newsletter and share the ride.
Michael Alberty
Head Storyteller